Solar panels absorb the sun's rays and use them to create a source of energy which leads to the generation of heat and electricity. These can either be installed on the roof or on open ground which receives direct sunlight. The most vital aspect is the tilt of the panel so that the surface can be exposed to the maximum number of rays.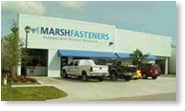 Depending upon the configuration required when mounting a solar panel, there are different types of fasteners needed to firmly hold the structure in order to resist any structural failure under extreme winds or rain. Reliability and stability of the mounting fasteners cannot be comprised.
For the past 20 years, Marsh Fasteners has been supplying choice grade stainless steel and aluminum fasteners for a variety of applications where only the best can be accepted. Solar Panel installations are no exception.
Mounting Solar Panels with Fasteners
Adjustable Ground Installation
This basically entails installing the solar panel on the ground in an open space which receives enough of the sun's rays throughout the daytime. In this type of mounting, adjustable clips and struts are used. The reason behind using amendable brackets is to fulfill the need for adjusting the panel twice or three times a year, depending upon the direction of sunlight. You can use stainless steel bolts for mounting the poles and aluminum clips or brackets to form the adjustable part.
Roof-Top Installation
This is the most common type of installation employed for setting up a solar panel to extract a renewable source of energy. It involves slanting the surface of the panel directly in the line of contact with the sun-beams, in case the roof is flat. For a sloped roof, there is an inclination provided only if the panel surface is not exposed properly to the sun. The racks are fastened to the floor through asphalt roofing shingles. This not only acts as a waterproofing agent, but also combats snow covering.
About Marsh Fasteners
Marsh Fasteners specializes in OEM stainless steel nails, screws, nuts bolts, and all other fasteners. For over 20 years Marsh Fasteners has provided:
Quality stainless steel fasteners and hardware
Competitive pricing
Bulk, packaged or kitted inventory
Construction projects
Excellent inventory including
Standard stainless steel fasteners
Specialty stainless steel fasteners
Friendly and knowledgeable staff
Marsh also provides aluminum, silicon bronze, brass, hot dip galvanized and nylon fasteners for those niche applications.