A Few Words About Marsh
Fasteners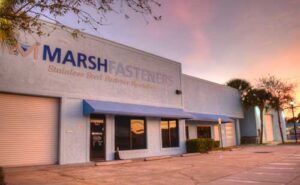 Marsh Fasteners located in Jupiter Florida has provided since 1992 a reliable one stop source for stainless steel and marine grade fasteners. Our products are packaged based on the needs of customers: marine construction, boat builders, contractors, retailers, watermaker, hardware and industrial suppliers.
Marsh Fasteners offers excellent pricing, service and products to all our clients. Marsh Fasteners has continually worked to expand our stainless steel fasteners and other products as well as customer service to our customers over the years. Our product lines include all the standard stainless steel fasteners, as well as a huge inventory of specialty items.
Please use the form on the Contact Page with the information needed to start our business relationship with you. Or, use the email address most pertinent to you for our initial contact. Please give your full name and business name as well as contact information on any emails.
Marsh Fasteners is always looking for qualified individuals to join our staff for a thriving and growing business. Contact us with your name, employment desired and contact information.
Our Staff