Marine fabricators make aluminum, stainless steel, fabricated metal, and other products that are used to build boats and other marine vessels. They cut, shape, join and repair the metal components that make up the hulls, frames, and other structures of boats. These structures may include fuel tanks, boarding ladders and platforms, rails, canopy bows, and a range of smaller or specially customized fittings. In order to do this, and to have trusted quality in the final products, only original equipment manufacturer (OEM) Parts should be used. For the past 20 years, Marsh Fasteners has been providing quality fasteners with properties that can be relied on, ensuring the safety of marine vessels.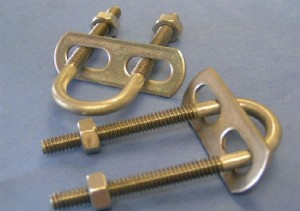 FAQs
Where Does Marine Fabrication Take Place?
Marine fabricators work in shipyards and slipways, which are often on the waterfront or close to water. Most fabrication is completed in the drydocks of ports and marinas.
What Does Fabrication Entail?
Marine fabricators work with building materials used to make boats and other marine vessels, which include steel, aluminum, wood, fiberglass, and other composites. They use hand and power tools, such as saws and drills, as well as welding and sanding equipment. They often work with resins and other chemical products that are used to seal and waterproof surfaces. Depending on the type of work they undertake they may also be required to use Computer Aided Design (CAD) software.
Fasteners in Fabrication
Fasteners are used to join two or more parts of an assembly, creating a larger functional whole. As such these small parts are subject to a lot of stress and wear-and-tear. This means that fasteners cannot be overlooked; cheaper alternatives to the original spec are not suitable.
Why OEM Parts?
Assurance of quality, specifically in regard to fit and function in this instance. Yes, you can find an M10 x 1.25 bolt at Home Depot. But, is it made from the same material as the original? Does the thread pitch really match? This is a simplistic example, but it applies even more so in the case of complicated parts and assemblies. Have you ever gone to install a new replacement part and the holes didn't match up? This is much less likely to happen with OEM parts designed by the manufacturer.
Warranty and Support
Occasionally the installation of a non-OEM part poses a threat to the warranty coverage on a particular piece of equipment. If your hydraulic system fails because someone changed with fluid that doesn't match manufacturer specifications, you may be on the hook to rebuild it yourself, rather than being able to file a warranty claim. OEM parts themselves may also have a better guarantee than those from 3rd-party suppliers or will fitters.
Why Marsh Fasteners?
Marsh Fasteners specializes in OEM stainless steel nails, screws, nuts bolts, and all other marine grade fasteners. For over 20 years Marsh Fasteners has provided:
Quality stainless steel fasteners and hardware
Competitive pricing
Bulk, packaged or kitted inventory
Construction projects
Excellent inventory including
Standard stainless steel fasteners
Specialty stainless steel fasteners
Friendly and knowledgeable staff
Marsh also provides aluminum, silicon bronze, brass, hot dip galvanized and nylon fasteners for those niche applications.