Last Updated on April 29, 2022 by Marsh Fasteners
With a climate as wonderful as that of the southeastern coast of Florida, decking screws and hidden fasteners are a hot topic among local contractors and homeowners!
Building Your Deck
Because Florida experiences extreme UV, frequent rain, humidity, salty spray, and hurricanes, building a deck that will last requires careful planning and durable materials. Research the options available to you and select what best suits your tastes and lifestyle.
Image: www.woodmagazine.com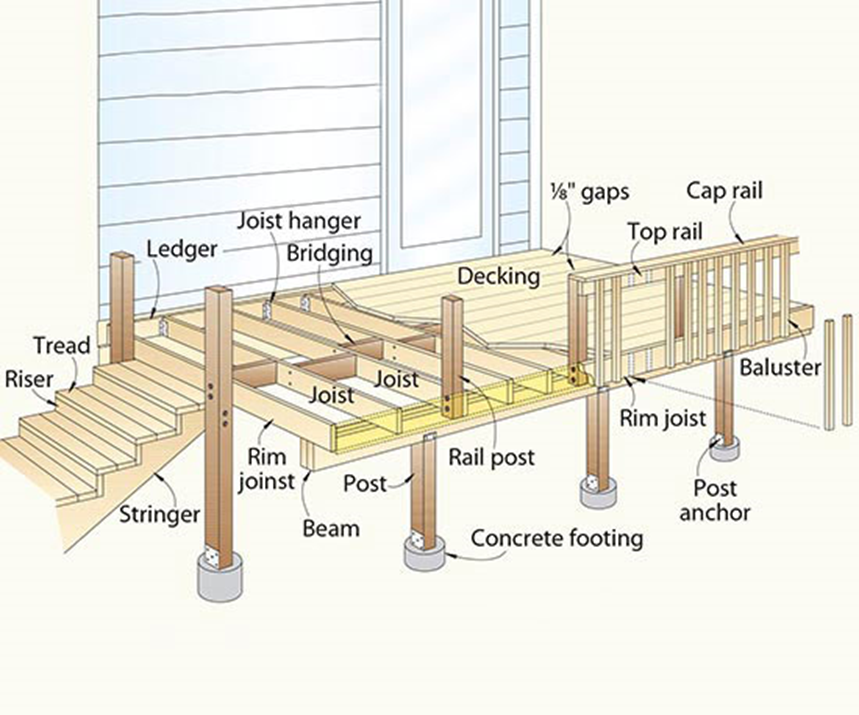 Decking Boards, Posts, Railings, and More
If you like the appearance and feel of real wood decking, remember that it requires recurrent maintenance. Redwood and cedar are naturally rot and insect resistant, but their supplies are dwindling – making them an environmentally unfriendly choice. In its favor, pressure-treated lumber is cheaper and rot and insect resistant. But its instability makes it prone to twisting, warping, and shrinking. Brazilian hardwood, or ipe, decking is three times harder than oak, impervious to rot and decay, and insect resistant. However, being so dense and therefore harder to work with, labor costs are normally higher.
Composites readily withstand high traffic and are resistant to stains, fading, scratches, warping, and mold. Sustainable, hardy, and low maintenance, composite decking boards are often more expensive than wood.
Decking made of cellular PVC (polyvinyl chloride) is even more durable and scratch resistant, if also more slippery, than composite. PVC decking also costs more per square foot.
Decking Hardware
Choosing appropriate deck fasteners is an important aspect of ensuring a structure that is stable and secure.
Traditional nails and screws are perennial carpenters' friends. The key to selecting those that will endure the elements is to check what they are made of.
Ordinary galvanized fasteners are protected with a zinc coating that is slightly thicker in so-called double-dipped galvanized fasteners. Although cheap, the coating is susceptible to wearing off over time, exposing the rough steel underneath. Galvanized steel is weaker and less attractive than stainless steel.
Although more costly, the chemical make-up of stainless steel fasteners provides an incredibly high tensile strength and rust / corrosion resistance. This is important when working with pressure-treated lumber because the preservatives in them, including alkaline copper quaternary, cause some metals to corrode. If you are using pressure-treated lumber, make sure that the decking nails, screws, bolts, and threaded rods are labelled as "ACQ compatible".
As a rule of thumb, using decking screws is better than nails because they:
More securely anchor your decking

Prevent warping of your decking boards

Allow for deck maintenance because they are easy to remove without causing damage.
If you're not crazy about visible screw heads, concealed deck fasteners create a surface that is smooth and uncluttered. Hidden stainless steel decking fasteners can be used with composite, PVC, ipe, ceda, or other exotic hardwood. However, some deck designs are unsuitable:
Decks that are close to the ground (⋜30")

Under-deck ventilation on fewer than three sides

Decks with wide and/or thin boards.

Inadequate drainage or pitch issues below deck
If your deck qualifies, here are some tips of selecting the best hidden fasteners:
Ensure that the fastener can be used with boards that are grooved on the sides

Confirm that the hidden fastener is approved for the type of decking you're using

Look for hidden fasteners that let you remove individual boards if damaged.

Topside installation is best for decks that are very high or low.
Take advantage of the South Florida weather and outdoor living with a deck you can enjoy all year-round! Contact Marsh Fasteners today for more information on hidden fasteners and other decking hardware.